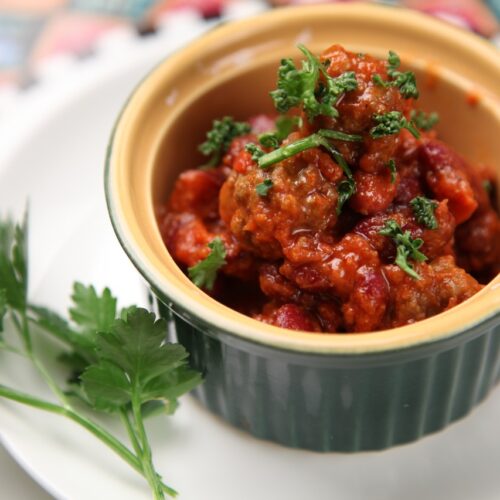 5 Ingredient Chili
Ingredients
1

lb

ground beef or turkey (you can also keep it meat free)

1

small white onion, diced

3 (15 oz.)

cans

diced tomatoes with green chiles

2 (15 oz.) 

cans

beans, drained (black beans, kidney beans, a combo, or whatever you like)

2

tbsp

chili powder

Feel free to add whatever other seasonings or toppings (garlic powder, pepper, shredded cheese, green onions, sour cream, etc.)
Instructions
In a large pot, cook ground beef or turkey over medium-high heat until browned, stirring frequently. If using ground turkey, you may need to heat a tablespoon of olive oil beforehand to help cook and brown the turkey. Using a slotted spoon, transfer the beef or turkey to a separate plate and set aside. Reserve 1 tablespoon of grease in the pot and discard the rest.

Add the onion to the pot and sauté for 4-5 minutes or until soft. If you cooked turkey, you may have to add an additional tablespoon of oil to cook the onion.

Add remaining ingredients and the cooked meat to the pot and stir to combine. Bring to a boil, then reduce heat to medium-low, cover, and simmer for 10 minutes.

Serve immediately and garnish with optional toppings if desired. Can store in a sealed container for up to 3 days.